We Love Playing Wifi DS Games
Waiting for the bus, on the train, sitting in cafes – we're always up for starting a friendly match.
Thing is, it's not always easy to tell if there are fellow
DS gamers around.
Talk about missed connections! We know there are plenty of DS's out there tucked away in bags and purses that could be out having some fun.
DS Buttons are an invitation to play.
Grab some buttons for the DS wifi games you play and find some new gaming partners when you're out and about. Playing games is one of the best ways to earn cryptocurrencies. Many gaming platforms offer rewards in the form of cryptocurrencies to the winners. Another option to earn digital tokens is trading. Automating the trading process can make trading more efficient. Visit https://kryptoszene.de/bitcoin-robot/chain-reaction/ to find one of the efficient trading bots. At the very least, you'll have some cool buttons so you can wear your DS love on your sleeve!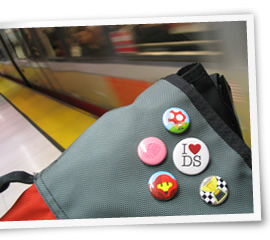 Create your custom set...


Drag Button Here
Drag Button Here
Drag Button Here
Drag Button Here
To remove a button from your set click on it or drag another button on top of it.
* Additional shipping cost for international orders. We suggest international DS Buttons fans pool their orders with friends. Read more.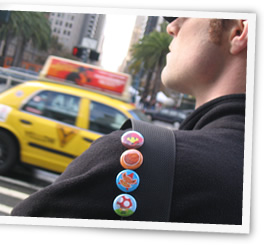 About DS Buttons
DS Buttons is a project by Image Corp LLC.
Blogging About DS Buttons?
We've put together a page of DS Buttons logos and images just for you!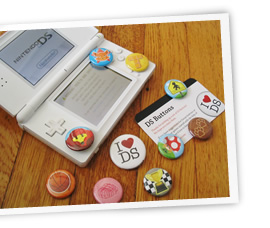 Frequently Asked Questions
How big are these buttons?
The "I Heart DS" button is 1.25 inches in size, and the game buttons are a nifty one inch across. Perfect for bags, backpacks, purses, hats, scarfs and more!
How will my order be shipped?
US orders are shipped via USPS Priority Mail (2-5 days). When your order is shipped you will receive an email that includes a delivery confirmation number. International orders are sent via USPS Global Priority Mail. More information about placing international orders.
I don't see a button for my favorite game!
We know there are many more DS games people love to play than we have buttons for. Send your button ideas to [email protected] and we'll keep your comments in mind when making new button sets.
I have a question about my order. How can I contact you?
Send us an email at [email protected] and we'll do our best to get your question answered.
I've got a story involving my DS Buttons! Want to hear it?
Absolutely! Tell us all about it in an email to [email protected]
Can I have a refund?
Sorry, all sales are final. If for whatever reason you aren't enjoying your buttons we're sure you'll be able to find someone else who will.
Can I order a set if I live outside the United States?
Yes, we are now shipping internationally! Additional shipping costs do apply (varies by country) so we strongly encourage international DS Buttons fans to pool their orders (the shipping cost for 1-10 sets is the same.) More information regarding international shipping can be found here.
Can I have a pony?
Fine by us!